Drea Diary,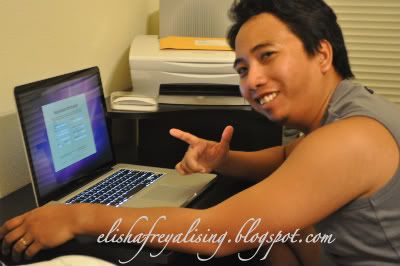 Daddy and his New Baby Mac-Mac :)
Daddy has another baby again! Daddy bought himself a new MacBook! Mommy said he's been dreaming of it so instead of mommy buying her new pc, she let daddy buy his and the old one (1 year old) will be hers :D How sweet of mommy! :)
We went to best buy yesterday, I saw a lots of gadgets not just only for mom and dad but for Ethan and me too! :D We tried to play the leapfrogs, they are very cool stuff! Mommy wants us to buy that toy but she said maybe next time after daddy's turn of buying his stuff. Daddy got his PC for installment zero percent interest after having approved by Best Buy Financing. I guess Dad was very happy coz mom said he is really looking for that financing and was worried thinking not to be approved. I guess having a good
FTC credit score
can give you an opportunity to be approve easily. And now that he used credit card again, mommy said he will gain more
free credit score
!
And after that, daddy can purchase leap frog for us thru financing too.Yipee!
Anyways, aside from Mommy, it's his birthday this August too, and that new baby of him was his treat for his self.
ADVANCE Happy Birthday Daddy! Hope you enjoy your new baby Mac-Mac!
Hugs and Kisses,